In honor of Giving Tuesday, we wanted to spotlight three of our nonprofit clients and show how they are using email to effectively mobilize, educate, and raise funds for their causes.  
SPCA International: Mobilization 
One of the hardest goals of nonprofits is encouraging subscribers to perform an action without any direct benefit. Rather than fun new products or can't miss event tickets, nonprofits are tasked to get their readers to become an active advocate for their cause.  
SPCA International took an innovate approach to this mobilization problem. SPCA International is a nonprofit organization with the main goal of advancing the safety and well-being of animals, allowing all to live a life free of cruelty and suffering. When 13 pups in Bagdad were in urgent need of rescue, SPCA International decided to bring their urgent need for funding directly to their donors. They created an email campaign that showed all 13 animals waiting for help and offering subscribers an opportunity to support one dog individually or donate to support them all. As they raised funds for the dogs, SPCA International sent out updates with dogs marked as funded to show the progress towards the goal and mobilize others to join in. By creating an interactive story, SPCA International was able to effectively connect with their advocates and mobilize them into action.  
Learn more about how SPCA International uses email check out their case study or visit their website to donate.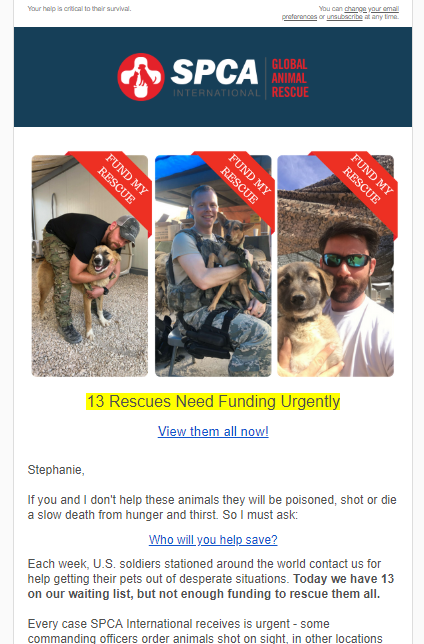 AARP: Education  
Another goal for nonprofits is to educate their subscribers, not only about their own organization but issues that may be affecting them. However, information is not as enticing as flashy sales and discounts. Through the content is valuable, it is a challenge to communicate information effectively within a single email.  
AARP found a creative solution with its fall theme email. This email was created to inform subscribers of events in their area and provide links for them to access more information about AARP and the benefits they provide. By creating an engaging and creative email campaign not only did each of the CTA's within the email receive a lot of clicks, users also attended the local events mentioned in the campaign.  The campaign was so successful, they won Return Path from Validity's Email Hero award for best themed email. 
Feel free to donate to AARP on their website and learn more about how they won their award here.

Global Giving: Fundraising 
Most importantly, nonprofits are tasked with raising funds to support their efforts. Much like the challenge for mobilization, fundraising requires nonprofits to create an effective message that resonates with subscribers and motivates them to donate money to a cause.  
The best way to create an effective message is through personalizing the content to resonate with each potential advocate. GlobalGiving is a global crowdfunding platform for social entrepreneurs and nonprofits to raise money for charitable causes in their communities. To reach and resonate with potential donors, GlobalGiving uses email personalization to match individual donors with causes they are most willing to help based on a donor's giving history.  By creating targeted emails, GlobalGiving is able to connect worthly causes with advocates who are most likely to help. 
Check out the GlobalGiving case study to learn more about how they leverage email and head over to their website to donate.  
To learn more tactics and metrics on how email can help nonprofits, check out our guide The Nonprofit's Guide to Email Marketing.  
Please follow and like us: