After increasing Certification's global coverage with the addition of Vade Secure and Signal Spam in April, we're very excited to announce another feature enhancement for Certification. The updated Daily Performance Report (DPR) is now available for all Certification customers!
The DPR is a favorite among Certification customers because it provides a daily overview of their email program performance—specifically, how many IP addresses are active and suspended—alongside other rich and insightful data from mailbox providers.  While our previous design was functional, there were areas for improvement.
Our redesigned DPR is intuitive for new customers and meets the needs of customers who check their status at a glance, monitor the status alongside summary data and deep dive into granular data.  We've kept the summary tiles, which show how many IP addresses are active and suspended, but we've updated the design to include IP addresses that are nearing suspension so customers can proactively address possible performance issues.

Another new addition to the DPR is the 'information' section. Here, we'll surface valuable content like industry blogs and webinars, or information about the value that Certification delivers to customers' email programs.

We've also added a clearly labeled performance section which provides granular data about the IP addresses in your program that are either suspended or approaching suspension.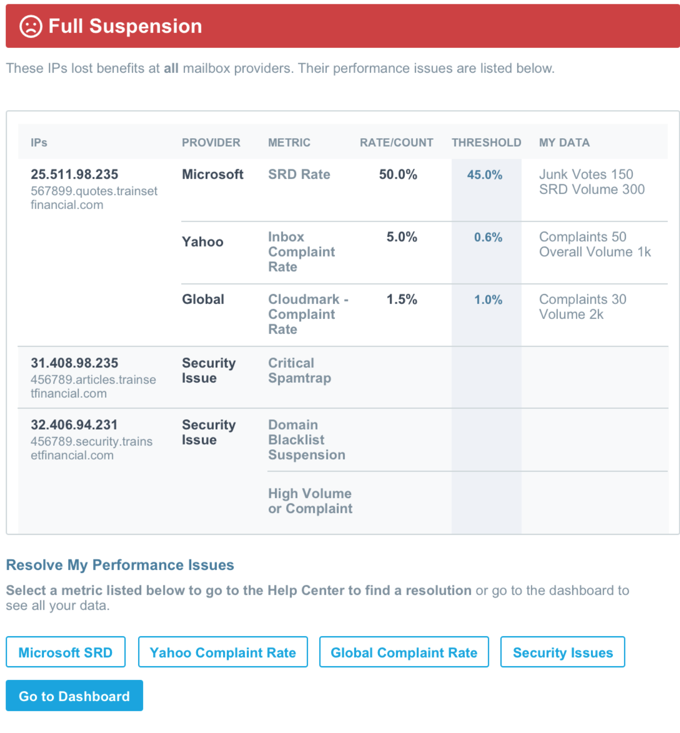 Finally, we want to ensure that customers still have access to the data that's currently available in the DPR.  A new CSV attachment has been added, which includes the 30-day aggregate data for each IP address. Customers will still receive the attachment that includes 30 days of each IP addresses' daily data.

The new DPR, as well as the addition of Vade Secure and Signal Spam, show our ongoing commitment to improving our customers' experience and the value of our Certification product.  We look forward to sharing future DPR enhancements and some other releases later in 2019!
Have more questions about the DPR or Certification?  Take a look at our webpage or read our fact sheet.
Please follow and like us: